Fire
was a meme started during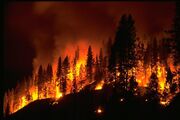 the 2010 College Football season by reknowned Commentariat member,
Ancient Chinese Secret
. It is used to express extreme anger and disappoint regarding a commenter's football program of choice and generally in the pictures of fire, various objects on fire and the word "FIRE" typed in caps lock.
There exists variations on the fire theme in terms of both tire fires and dumpster fires.
Ad blocker interference detected!
Wikia is a free-to-use site that makes money from advertising. We have a modified experience for viewers using ad blockers

Wikia is not accessible if you've made further modifications. Remove the custom ad blocker rule(s) and the page will load as expected.