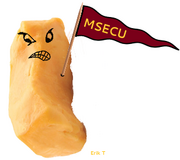 Make Spencer Eat Cheese University (MSECU) is a large, liberal eats university. It is the largest university in West Lafayette, IN. Formed in a charity drive in the offseason of 2012, MSECU quickly grew into a academic and football powerhouse. The football program, known as the Curds, chief rivals are DeVry Institute of Technology and the University of Phoenix Online.
Fight song:
MEATS LEAVE YOU BLOATED
GRAINS GIVE YOU TURDS
VEGGIES ARE DISGUSTING
FIGHT! WIN! CURDS
Academic Departments
Lawl School
Awesome Studies (Dean's position currently vacant)
School of Medicine
Fakultät für Deutschen Social- und Politikenwissenschaften
Engineering Better Cheese
Fine Arts that do not Include Drawring
Research
Center for Organically Grown and Artificially Synthesized Fermented Curd Comestibles
Ad blocker interference detected!
Wikia is a free-to-use site that makes money from advertising. We have a modified experience for viewers using ad blockers

Wikia is not accessible if you've made further modifications. Remove the custom ad blocker rule(s) and the page will load as expected.