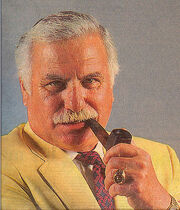 Turfman's, or Turfman Industries, is the maker of several fine products heartily endorsed by Howard Schnellenberger.
Products and Services
Edit
Turfman produces the following necessities for the discriminating gentleman:
Leisure Scotch for Gentlemen
Sanitary Rubberized Personal Windsocks
Combination Pomade and Edible Fiber Spread for Tense Cowpokes
Aerosol Scotch
All-in-One Flare Gun and Dentifrice Dispenser
Constitutional Suppositories for Vim and Vigor
DUI-proof Vodka
Troll Food and Dermatological Abrasive
Iron Fortified Rust Flakes for the Iron Gentleman
Universal Dust of Pesticidal Nature and All-Natural Laxative for Husky Males
Long Term Life Insurance and Live Fowl of the Month Club
Adobo Paste and Revitalizing Corporeal Skin Creme
Oregon Heifer Feet Jerky Heel Lifts
Naval Jelly Spread, Moisturizer and Nutrition Spread
Rat Hammer
Onesies for Men
Edible Rosemary Suspenders
Wood Soap and Suntan Lotion
Blinding Powder and Seasoning for Various Street Fowl
Turkey Fryer and Infant Jacuzzi
Ad blocker interference detected!
Wikia is a free-to-use site that makes money from advertising. We have a modified experience for viewers using ad blockers

Wikia is not accessible if you've made further modifications. Remove the custom ad blocker rule(s) and the page will load as expected.